The College of Liberal Arts & Sciences at KU offers a range of courses on science fiction, speculative fiction, and related topics and genres such as science, technology, and society, fan fiction, and fantasy.
View a list of past courses here.
Check the course links below to see whether specific SF and related courses are currently being offered at KU. Since many of these courses are topics courses, please note the section titles and departmental course descriptions to ensure that the topics of the course(s) offered given semester are relevant to your interests.
ENGL 329: Speculative Fiction
SUMMER 2023

In this course, students will explore new worlds through the exploration of fantasy literature. This course will focus on classic tales written by Lewis Carroll and Ursula K. Le Guin and explore the ways the genre has changed throughout time and varied experiences by reading authors like Daniel José Older and Cherie Dimaline. Through class discussion and reading analytical essays on the genre, students will explore how these "new" worlds can mirror the real-life terrors and inequities outside of the presented fantasy. While the study of literature is the focus of the course, the curriculum will interrogate how the characters, imagery, and thematic elements of the materials address (or do not address) topics of race, gender, sexuality and class in society. Students will learn how analyze beyond the fantastical aspects of these new worlds and to synthesize literary analysis and social theory. Assignments will include a book review, short response papers and a final multimodal project.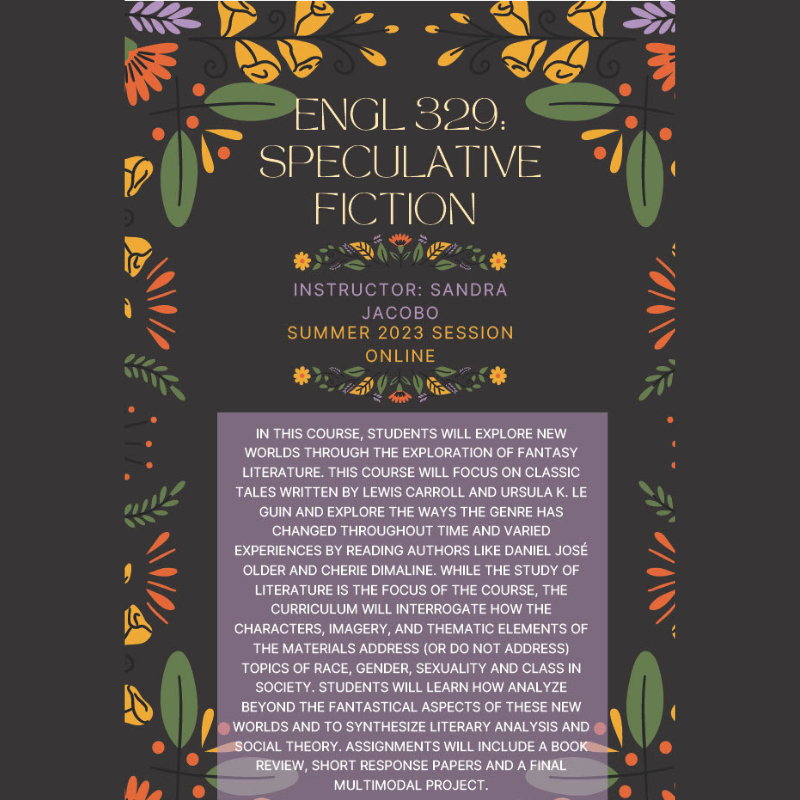 ENGL 757: Speculative Fiction Writing Workshop
SUMMER 2023

In this intensive, 2-week creative writing course, sponsored by the Gunn Center for the Study of Science Fiction, we will work on developing short fiction skills which will be applicable to longer-form writing as well. Speculative fiction (re)imagines worlds past, present, and future to construct realities and irrealities that explore present crucial human questions. Participants will read contemporary short speculative fiction by award-winning authors Amal el-Mohtar, Sofia Samatar, Ian Muneshwar, Ted Chiang, and others, and deepen their understanding of aspects of craft, such as worldbuilding, characterization, voice, and structure. We will also discuss the mechanics of submitting short fiction to magazines. Class activities will include writing exercises and peer review workshops, in which we will engage with each other's work in a supportive and constructive manner. Please prepare at least one short story (or an excerpt from a longer work) to share and revise.

The online course, with synchronous and asynchronous elements, will run M-F 4:30-7:30 pm, from June 12 through June 23, 2023.

Instructor: RB Lemberg, author of the acclaimed books 'The Four Profound Weaves' (2020) and 'The Unbalancing' (2022) and a finalist for the prestigious Nebula Award and World Fantasy Award.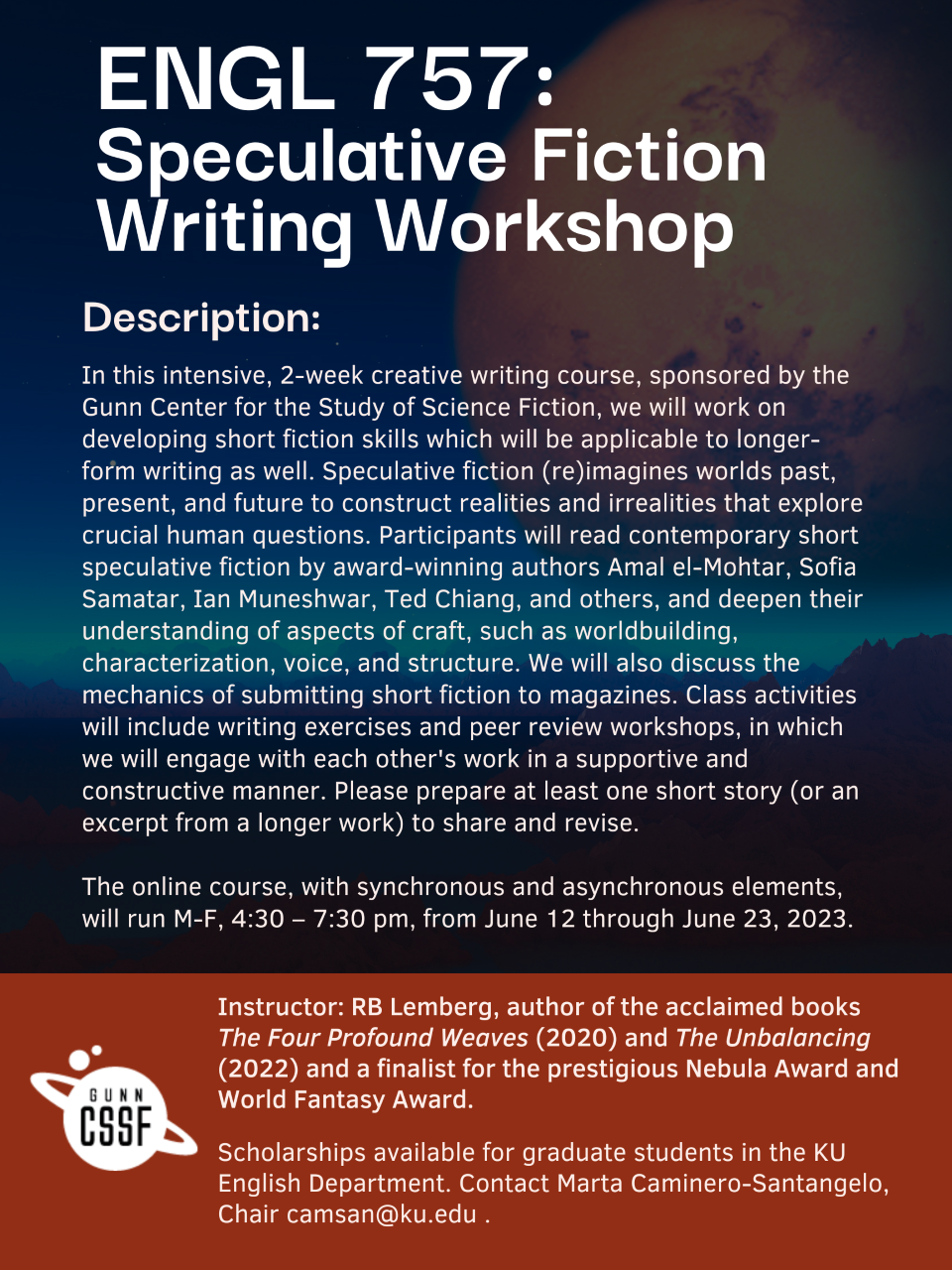 ENGL 101: Composition in Dystopia
FALL 2023
English 101: Composition in Dystopia introduces students to composition and rhetoric through the lens of dystopia. We'll be using the KU Common Book for 2023-24—Octavia Butler's Parable of the Sower—as a jumping-off point for our discussion of how to productively read, critique, and write a multitude of texts addressing dystopias, both fictional and factual.

As Butler's most famous novel predicted, the twenty-first century has been marked by serious threats to the environment, human rights, civil society, and democratic institutions around the world. In a course fundamentally about the uses and power of language, it is critically important to address the ways it can be (and often has been) used to make a nightmare out of the world. And it is just as essential to explore how language can be used to fix it. This course will not only introduce students to the concepts and theory of rhetoric in general, but specifically empower them to engage with the complexities, injustices, oppressions, and disasters of the world they will graduate into.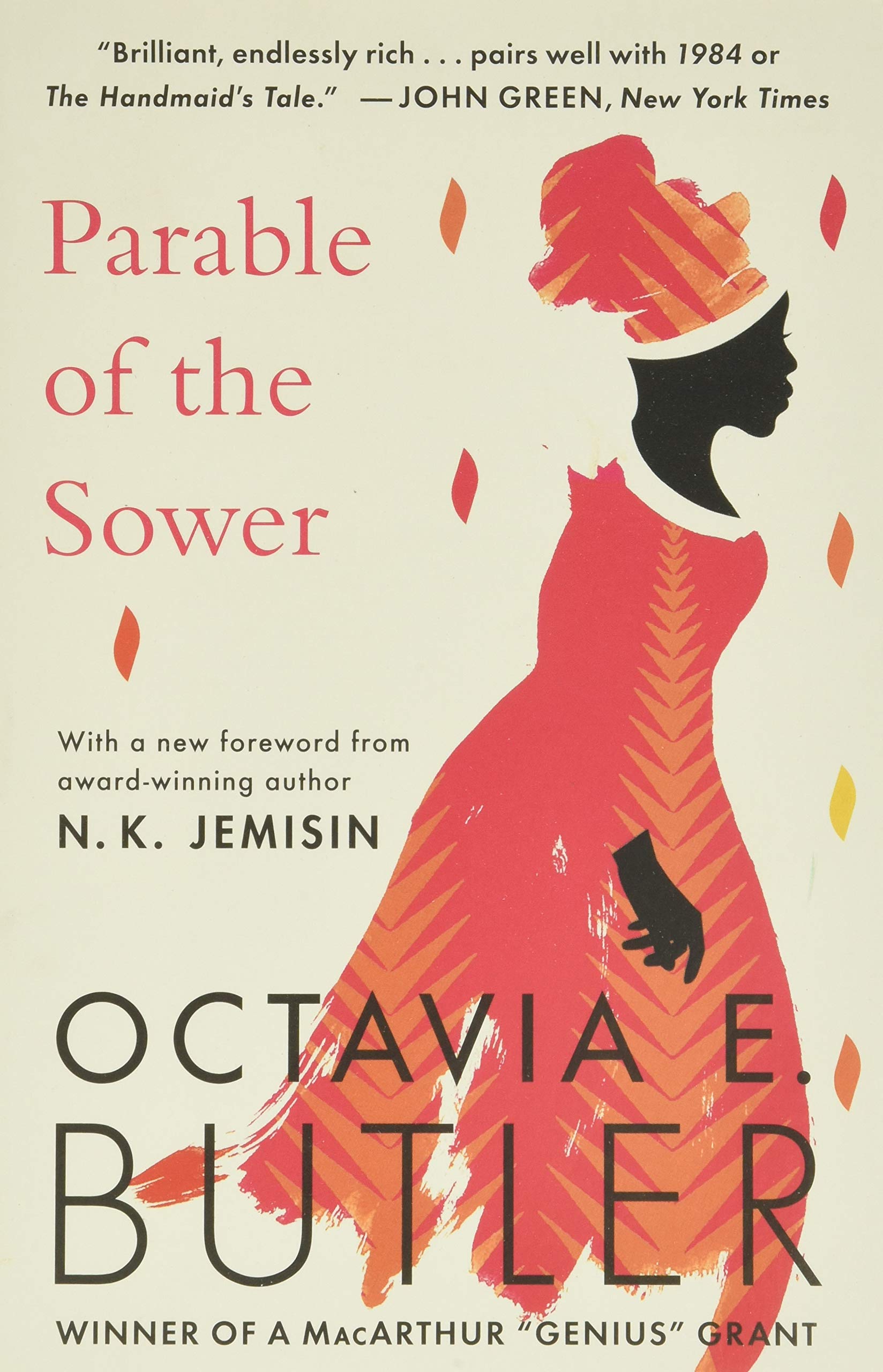 ENGL 203: Defining Horror
FALL 2023
Throughout this course, we will think about how we define horror, what makes something scary, and how language incites fear. This course strives to foster a better understanding of the genre, from its first "official" appearance in 1764, the evolution of the genre, all the way to the literature we currently consume, attempting to define what "horror" is (or isn't). In seeking this we'll identify what is said and unsaid in the horror genre and explore some of the psychological and cultural interpretations of the genre as a way to understand how societal fears, anxieties, and pressures influenced the evolution of the genre.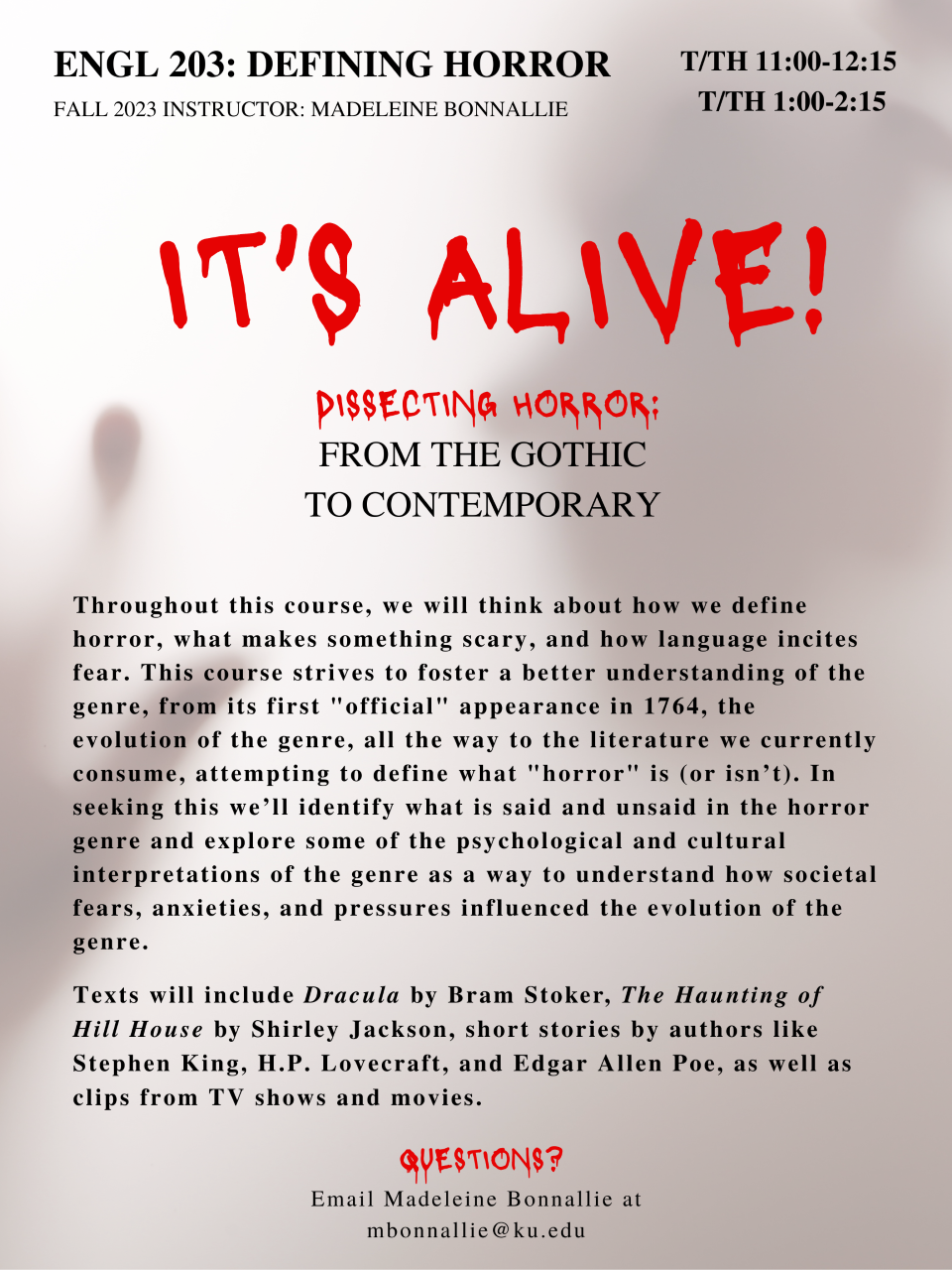 ENGL 203: Science Fiction as Social Commentary
FALL 2023
Explore the world of science fiction as a lens to view our own existence. The genre of sci-fi is built on social commentary as a tool to examine our present and predict our future. Such commentary can lean toward the satirical on one end of the spectrum paired with the darkest visions of humanity on the other. Sometimes these two extremes may inhabit the same work. Projects will include essays but will go beyond traditional academic writing. Enroll for a semester voyage of science fiction intrigue!

Authors will include Octavia Butler, Kurt Vonnegut, Douglas Adams, Mary Shelley, and more!

Films will include Children of Men, Eternal Sunshine of the Spotless Mind, Godzilla, and others.