Prof. RB Perelmutter
---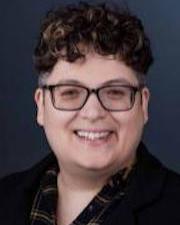 Jewish Studies
Slavic & Eurasian Languages & Literatures
they/them/their
Research
—
Research interests:
LGBTQIA+ SFF
gender and SFF
Soviet science fiction
SFF in translation
speculative poetry
Selected Publications
—
(Pen name: R. B. Lemberg)
Lemberg, R. B. "Ungendering the English Translation of the Strugatskys' The Snail on the Slope." In Science Fiction in Translation, pp. 55-78. Palgrave Macmillan, Cham, 2021.
Lemberg, R.B. The Four Profound Weaves. Tachyon, 2020. Finalist for the Nebula, Locus, Ignyte, World Fantasy awards, and an Otherwise Award Honoree, 2021.