Prof. Kathryn Conrad
---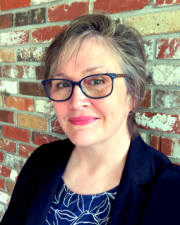 Research
—
Research interests:
science and technology studies
Irish modernism and speculative fiction
fan fiction
modernism and technology
Selected Publications
—
Conrad, Kathryn, and Jamie Hawley. "Teaching fan fiction: Affect and Analysis." Transformative Works and Cultures Vol. 35 (2021): Fan Studies Pedagogies. DOI https://doi.org/10.3983/twc.2021.2087
Conrad, Kathryn, "Infernal Machines: Weapons, Media, and the Networked Modernism of Tom Greer and James Joyce." Science, Technology, and Irish Modernism, edited by Kathryn Conrad, Cóilín Parsons, and Julie McCormick Weng, Syracuse University Press, 2019, pp. 77-94.