Prof. Giselle Anatol
---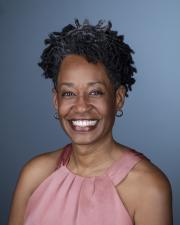 Director (ON LEAVE 2023-2024)
she/her/hers
Research
—
Research interests:
speculative fiction of the African diaspora
vampire literature
YA fantasy
Selected Publications
—
The Things That Fly in the Night: Female Vampires in Literature of the Circum-Caribbean and African Diaspora (Rutgers UP, 2015)
"Transmogrifying Home in Jamaica Kincaid's Annie John and Kacen Callender's Hurricane Child." FIAR: Forum for Inter-American Research. Imaginaries of Home in the Caribbean Diaspora and the Americas 14.2 (November 2021): 80-89.
"The Soucouyant, and Other Bloodsucking, Skin-Shedding Female Monsters." Listening to Our Monsters, Special Issue of Listening: Journal of Communication Ethics, Religion, & Culture 52.3 (Fall 2017): 191-198.
"Brown Girl Dreaming: A Ghost Story in the Postcolonial Gothic Tradition." Children's Literature Association Quarterly, Special Issue on Genre and Black Literature 41.4 (Winter 2016): 403-419. 
"The Sea-People of Nalo Hopkinson's The New Moon's Arms: Reconceptualizing Gilroy's The Black Atlantic through Considerations of Myth and Motherhood" in Diasporic Women's Writing of the Black Atlantic: (En)Gendering Literature and Performance. Eds. Emilia María Durán-Almarza and Esther Álvarez-López (Routledge 2013): 202-17. 
"Maternal Discourses in Nalo Hopkinson's Midnight Robber," African American Review Vol. 40, No. 1 (Spring 2006): 111-24. 
"A Feminist Reading of Soucouyants in Nalo Hopkinson's Brown Girl in the Ring and Skin Folk," Mosaic: a journal for the interdisciplinary study of literature. 37.3 (September 2004): 33-50.
"Transforming the Skin-Shedding Soucouyant: Using Folklore to Reclaim Female Agency in Caribbean Literature." Small Axe 7 (March 2000): 44-59.
Editor, Bringing Light to Twilight: Perspectives on the Pop Culture Phenomenon (2011)  
Editor, Reading Harry Potter Again: New Critical Essays (2009) 
Editor, Reading Harry Potter: Critical Essays (2003)