Jason Baltazar
---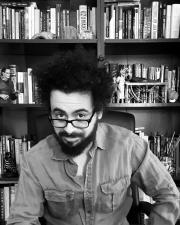 Graduate Research Assistant
Biography
—
Jason Baltazar is a doctoral candidate with a concentration in Creative Writing. His work blurs genre to explore tensions between identity and culture, particularly for those who stand at the intersection of multiple categories. He believes creative writing is as much inquiry as expression and is especially interested in the potentials of fantasy and horror to investigate marginalized experiences. His writing has been nominated for multiple awards, and has or will appear in Boston Review, Wigleaf, Wrongdoing Magazine, and other venues.
His first short story collection is under consideration and he is currently drafting a novel, a punk-infused dark fantasy about the heartaches of hyphenated Latinx identity in small town America.
Research
—
Research interests:
Creative writing (prose, poetry, hybrid forms), Literature of the fantastic, Post/anti-colonial interventions in speculative fiction, Multi-ethnic and diasporic American literatures.